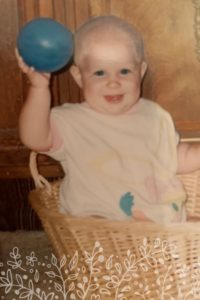 Anna is as smart as all get out. She's from the South too. How do we know that? 'Cause she's lived there since she was knee high to a grasshopper. You will absolutely love her adorable Southern accent if you have the chance to speak to her.
Anna brings a strong overall knowledge of marketing strategies. In addition, she taught herself how to build websites from the ground up. She creates the site design, content, images, etc. She admits that she has learned a lot since building her first sweet, little website! That's a huge accomplishment for someone who has mainly focused on marketing strategies.
Most of Anna's professional career centers around working as the Director of Marketing Communications for nonprofits. She is specifically looking forward to creating strategic marketing plans for our Choose Life Marketing clients.
Anna loves spending time at the beach with her husband and daughter, or curling up on the couch with a warm, fuzzy blanket, Netflix and some popcorn mixed with M & Ms. We reckon that's a southern thing to eat, and we couldn't be happier than a dog with two tails to have her on the team!