Though news of the coronavirus has been spreading for a few months, the decisions and actions of the last two weeks have impacted the United States in ways we hadn't felt before. The mandatory shut down of restaurants, schools and non-essential businesses and the use of face shield with glasses has caused great concern as many businesses also move to remote-only work for their employees.
For pregnancy centers all over the country, this change has caused uncertainty and raised a lot of questions about how to continue operations. We know many of you want to stay open, but you are concerned about safety for your staff, volunteers and clients. Many directors have had to make difficult decisions about postponing or canceling fundraising events, which raises real concerns about how to make up for budget losses. (Next week, our email will be full of tips on how to stay funded during a crisis.)
And yet, in spite of these setbacks, the needs of the abortion-vulnerable woman haven't changed. She still needs resources, support, and answers to her fearful questions about what life will look like in the midst of an unplanned pregnancy. Historically, recessions have led to a spike in the abortion rate. Now more than ever, women are probably being told abortion is their only option, especially in this changing economy. The woman who was abortion-vulnerable has become more abortion-determined, and you were placed on this earth "for such a time as this" to help her see a better, more life-affirming future!
In this FREE guide, we share four marketing strategies you can do right now to reach more abortion-determined women in your community.
Coronavirus definitely presents challenges. We know your staff's health and safety is a big concern for you. But we also want to challenge you to view these difficult circumstances as an opportunity. It's an opportunity to continue speaking hope and life into abortion-minded women while offering  a life-saving alternative to abortion. You have the opportunity to write a different story that future generations will look back on as they wonder why the abortion rate didn't go up during this troubling time. 
Google Ads
Google Ads are a primary way many pregnancy centers reach abortion-minded women in their communities. And they should continue to be part of your strategy to let women know you're there for them with the resources and support they need.
Ads on Google allow you to put information about your pregnancy center at the top of search results pages when women are searching for abortion or pregnancy-related services near you. They can create awareness and conversions, and you only pay when someone clicks on your ad.
We are already noticing searches using the the term "abortion pill" are increasing around the country. Therefore, now more than ever before, we highly recommend you keep your Google Ad campaigns running. During the coronavirus pandemic, you'll want your ads to have language that reassures women you're still open and available to serve them. This is our top-recommended strategy to reach women during this crisis, so if you aren't sure how to get started or you have questions, please reach out to our team today!
Google My Business
The next strategy to incorporate is Google My Business. This is the easiest strategy to invest in because it requires very little time, it is FREE and it puts your center on the map! If you haven't already set up your profile, that's your first step. We recently published a whole guide to Google My Business, so you can access the instructions to setting up your profile here.
Once your profile is set up, here are the specific things you should look to update in light of coronavirus:
Update your hours. Have your hours changed in response to this pandemic? If so, remember to update them in your profile. Your Google My Business profile shows up when women search in Google Maps and when they search for your pregnancy center or related terms (if you've done some SEO work!). The first thing they'll look for is your hours, so this is where you let them know when you're available to help them. There are two sections for your business hours: Normal Business Hours and Special Business Hours. Make sure your normal hours are correct, and fill out the special business hours section if you're open or closed at different times.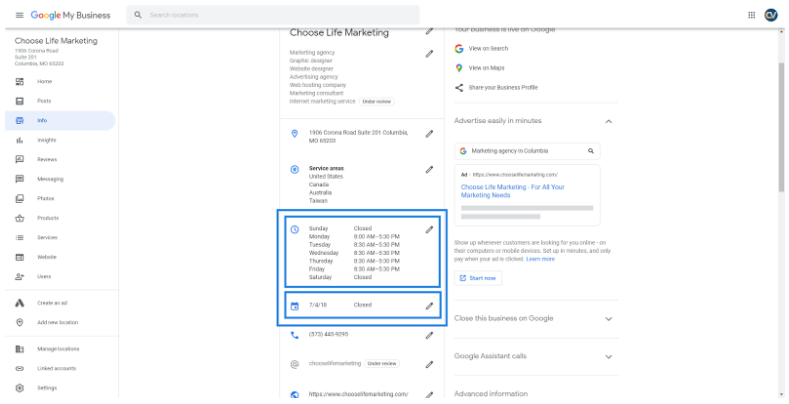 Update your business information. If it's been awhile since you've looked at your profile, take a few minutes to make sure everything listed is accurate and up-to-date. Do you have different phone numbers for calling and texting? Make sure both are listed. In today's globalized world, having a virtual number can significantly benefit your business operations. By getting a virtual UK number for WhatsApp verification, businesses can effectively manage international communications. https://www.yourbusinessnumber.com/blog/how-can-i-get-a-virtual-uk-number-for-whatsapp-verification provides all the necessary steps to follow, making this technical task an easy one. Does your profile accurately describe the work you do? Take a few minutes to update it.
Make announcements. Right after women look to see what your hours are, they'll look to see if you've made any announcements about coronavirus (or COVID-19). Calm their fears by letting them know about anything and everything you're doing to make your facilities more safe. Are you still accepting walk-ins? Setting up virtual appointments? Cleaning more than usual? Only offering emergency supplies (diapers, formula, wipes)? Let them know what you're doing. This will also show you're aware and taking seriously the pandemic.
Look at your calendar for today, pick a 30 minute time block, and dedicate that time to setting up and/or updating your Google My Business profile. If you already have one set up, it shouldn't take you more than a few minutes to make the updates and then you can focus on the other tasks on your plate today. This is important! It will help give women the information they need and answer their questions right away about whether you're an establishment they can trust with their health needs.
Geofencing
This is a powerful form of advertising because it's location based. It allows you to show advertisements to women in a specific geographical location, and you can run geo-targeted ads on Google, social media, and YouTube. You may have run geofencing ads for schools, and we're encouraging you now to take that same budget and move your geofence to specific neighborhoods or zip codes.
Doing so will allow you to speak directly to the women you're trying to reach. "We're open in Marietta, GA." This lets them know you're close, you're available to meet their needs, and you're still open when so many other businesses are closed.
To get started, choose which geographical location(s) you want to target. Choose neighborhoods and zip codes close to you and establish your fences around those locations. If you know certain neighborhoods have mostly homes with elderly residents, choose different neighborhoods to target.
Geofencing is an effective advertising strategy right now because it allows you to put your services in front of the people in the area where they need them most. Contact us today if you need help getting started so you can reach more abortion-determined women now. 
Facebook
Finally, you'll want to utilize Facebook as a strategy during this pandemic. Look at all the same things you did for Google My Business – update your hours, make sure your business information is correct, and make an announcement about what you're doing to keep people healthy and safe at your center.
In addition to the above tasks, you'll want to keep regularly posting to your page. Even if you're cutting back on your hours, it's important to keep up with your posting schedule so Facebook's algorithm still knows you're relevant. For you, this means potential clients can still find you easily.
You should also continue running Facebook ads. You can run geofenced ads on Facebook, letting potential clients know you're still there for them. Remember, their situation hasn't changed, and financially, they're probably hurting now more than ever and need to know you offer the resources they need for free.
We know these strategies work because we utilize them every day and get to see and measure the results. Because we work with so many pregnancy centers across the country, we have a lot of data to look at and can continue to make the best recommendations for you, whether you're in an urban, suburban, or rural area.
Contact us today to learn more, ask questions, and get started on reaching more women with hope, truth, love, and LIFE in the days and weeks ahead of us.