As a pregnancy center, your goal is to reach pregnant women facing unplanned pregnancies, directing them towards life-affirming options so they choose life for their babies instead of abortion. To do this, you need to reach them early in their unplanned pregnancy and provide them with the information and support they need so that they do not feel abortion is their only choice.
In this guide, we will cover effective tactics for reaching abortion-minded women and prompts to encourage them to call or make an appointment at your center.
Why Conversion Tactics Matter to Your Center
Often it only takes minutes from an abortion-determined woman's online search to setting up an appointment. She is seeking immediate information and quick answers to help deliver her from the crisis she is facing. Conversion tactics are so important. They provide an online reactive response to information someone is seeking.
When you need an oil change in your car, a light goes on to indicate it's time for that service. If you don't already know of an oil change location, you would likely go to Google to search "oil change" or "oil change near me." Google would pull up several options and you would browse the top few selections, see what they offer and make your decision.
The reason you searched Google in the first place is because you needed information to help guide you to a service and location– in this case, an oil change.
Similarly, when a woman types 'abortion clinic near me', 'abortion cost' and 'abortion locations', she most likely knows she is pregnant and has determined that her next step is an abortion. She is searching to find the best place for her abortion based on costs, location, services offered, etc.
When you make a concentrated effort to target her in her search, you have an opportunity to show up alongside, or even above, abortion provider information, giving her an option to choose you first.
You would be there for her in her time of need instead of your local abortion clinic.
Conversion Tactics
A marketing tactic that results in getting a person to perform a desired action is considered a conversion tactic. In the scope of your center, this person is an abortion-minded woman and the desired action is for her to make an appointment or contact your center so you can help her.
As your center incorporates conversion tactics into your marketing efforts, this will ultimately increase the number of women you "convert" from abortion-minded with no awareness of your center to someone who becomes a client of your center.
While all of your tactics have the ability to connect with women, conversion tactics specialize in moving women toward the final action of contacting your center.
Snapchat
Snapchat Prevalence
Snapchat is one of the most prevalent social and messaging platforms for teens and young adults. Over 90 percent of people 12-24 use Snapchat. Since the introduction of Snapchat Stories, Snapchat has grown from a photo messaging app, to the preferred social media among teens.
Unlike some other social platforms, Snapchat usage rates only drop around seven percent between users with a household income of above $75,000 and those below $30,000. This makes it a great platform to reach women of all income levels, especially low-income women who have a higher chance of being abortion-vulnerable.
Snapchat as a Conversion Tactic
Snapchat provides an effective way for centers to meet abortion-minded women where they are already looking. Many of our centers have shared the influx of abortion-minded women contacting them as a result of their Snapchat ads.
Snapchat ads provide an easy way for someone to quickly make an appointment in one simple swipe, removing obstacles and streamlining her journey to contacting your center.
Snapchat Advertising Best Practices
When running advertising on Snapchat, stick to these best practices to get the most out of your efforts
Photo and video ads should not exceed 10 seconds to reduce the risk of the ad being skipped
Use natural imagery. Making your advertisements look like something someone might post on their story, instead of polished and professional. This keeps users from dismissing your ad before considering it.

Always include a

call to action.

Snapchat allows users to swipe your ad up for more information, so always include a call to action to swipe up. Giving clear next steps is essential when engaging women who are in a crisis. 

Always use a

landing page

. If a user decides to swipe up, you want it to be as easy as possible to make an appointment. Using a landing page streamlines that process and makes her more likely to contact your center.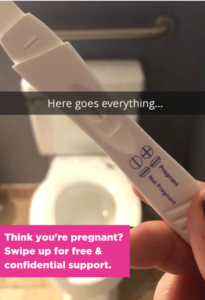 Google Ads
There are 3.5 billion searches on Google every day and that number increases by roughly 10 percent every year. You cannot deny the power that Google has over nearly all internet user experiences. Capturing that influence through Google Ads is an obvious choice when trying to reach abortion-minded women.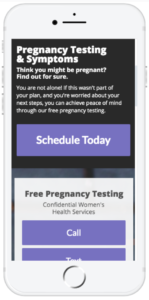 Google Ads Placement and Targeting
Google Ads appear at the top of search results pages and look like regular search results. Google Ads allow you to show up first in relevant searches so you can better reach your audience. 
In Google Ads, you can target keywords like "abortion clinic near me" or "pregnancy testing" to show up first in searches relevant to those terms. You want to reach abortion-minded women before abortion-clinics and other pro-abortion resources for the opportunity to give her the resources she needs to choose life. 
You can also refine your targeting to reach demographics in your target audience. This option allows you to choose specific demographics – such as females who live in your area and are in a certain age-range.
Why You Need to Show Up On Top
When your services are a matter of saving a life, you do not want to leave anything up to chance. Appearing at the top of search results increases the number of women who can make an appointment at your center. 
The first page of search results accounts for anywhere between 71-92 percent of all search traffic clicks. The closer to the top of a search you are; the more clicks you get and the more abortion-minded women you will reach. 
Google Ads Best Practices
Certify to Run Abortion-Related Ads
In order to run ads targeting abortion-related keywords, Google requires you to certify as an advertiser and places a disclosure in your advertisement stating if you provide abortions. Abortion-related ads are extremely effective in reaching abortion-minded women. Be sure to certify to avoid a Google policy violation.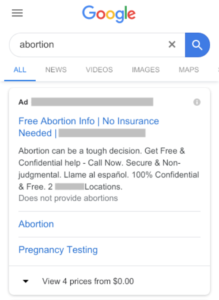 Direct to a Landing Page
Just like Snapchat, you want to make it as easy as possible to make an appointment once they have clicked on your ad. Directing to a landing page makes it easy to control the conversation with a woman after she has clicked. 
With the new Google Ads policies this year, it is vital that you keep your landing page content consistent with the messaging you displayed in the advertisement. If your ad is about pregnancy testing, but your landing page has abortion-related content, you are running the risk of receiving a policy violation from Google. Policy violations can result in ad removal, account suspension, and account deactivation. 
Retargeting
Retargeting is serving advertisements to women who have already interacted with your center online. It is an ad that follows them to other places online and reminds them to connect with you to make an appointment. This type of marketing gives women who viewed your information the extra push they need to follow through.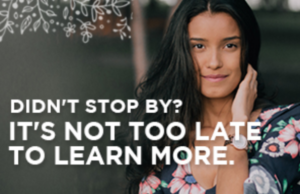 Retargeting campaigns can be run through Facebook or the Google Display network for individuals who have previously interacted with your advertisements, posts, organization page, or website. Reconnecting with these women allows your center to remain top-of-mind and reminds her that you are there to support her. This is ideal for reaching women early in their pregnancies. You will be familiar to them as they seek information now that they need your services. 
How to Build a Retargeting Audience
To build a retargeting audience, you first want to utilize awareness marketing tactics. Awareness marketing lets women in your target audience know that your center exists. This is valuable as you want to be top-of-mind if they one day need you. In addition, when people interact with these advertisements, facebook and google add these users to your remarketing list and allow you to further target them. 
To get women through your center's doors, conversion tactics like Snapchat, Google Ads, and retargeting can encourage them to make an appointment. We cannot stress enough how valuable these can be as a part of your overall marketing strategy. 
If you are interested in learning more about conversion tactics to get more women to your center, contact Choose Life Marketing today! Call us at 573-445-9295, email us at info@chooselifemarketing.com, or visit our website at www.chooselifemarketing.com to learn more about how we can help!