Search engine optimization (SEO) can feel overwhelming. While there are many technical aspects of this marketing strategy, there are things you can begin to incorporate today to provide excellent SEO on your website.
Remember SEO is what will help your website rank higher in search results. If your site isn't optimized for the right keywords, in many cases it is as if it does not exist. This makes SEO a very important part of your marketing strategy in the year 2021. For SEO guidance and help check out here.
Below are the steps you can take to begin optimizing your website so you can reach the abortion-minded women (and their babies!) who need you so much.
1. RESEARCH YOUR KEYWORDS
Before you can start optimizing your site, you need to know what you're optimizing it for. You'll want to conduct some keyword research to determine which ones have the right amount of search volume.
To help you get started, write down a list of the most commonly- asked questions women ask you during their appointments. These are likely the same questions they're typing into Google that will lead them to your site.
Remember to keep your keywords focused on the client side of your center, not the donor side. Everything about your SEO strategy should focused on the abortion-minded woman.
2. PICK A TOPIC
Now that you have your list of keywords, you'll want to pick a topic from that list. Each page on your website should have a separate topic. This allows you to accurately optimize each page and makes it easier for Google to understand what each page is about.
For example, rather than listing all of your services on one page, you should break them out into separate pages. This will allow you to fully optimize your pregnancy testing page for just that service, rather than trying to optimize for multiple keywords.
3. OPTIMIZE YOUR HEADERS
Header tags on a page can help with page organization, but they serve a very important SEO purpose as well. They help give Google's crawlers more clues about the page, helping them properly categorize and rank it. Putting keywords in your headers will help increase your SEO ranking in search results.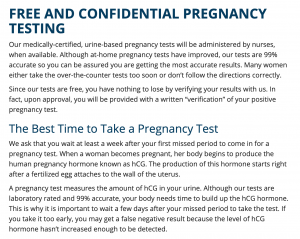 In addition to providing great keyword real estate, headers are most effective when used in sequential order. For example, an h1 header tag is typically the title of the page. Then any main points on your page would have headers that are tagged h2. If you have sub points under those headers, they would be tagged h3, etc.
Keeping your header tags in order is important for SEO and for your site's authority overall.
4. INCORPORATE KEYWORDS AND PHRASES
You'll want to include your primary keyword or keyword phrase in the opening paragraph of your page. Do this in a way that's natural; don't throw it awkwardly into a sentence just to make it fit. Instead, construct your opening paragraph around the keyword, making sure you provide valuable information about it.
For example, if you're writing a page about your ultrasound service, you can include it to roadmap the pieces of information you'll share about ultrasound on your page.
5. WRITE ENOUGH WORDS
One factor Google looks at when deciding how to rank pages is how long people stay on your page. If they bounce off the page quickly, there are a couple of factors that could be at play, but an important one is how many words are on the page. If you don't have enough words, people may skim quickly and then leave.
On the other hand, you don't want to have so many words that people glance at the page an both overwhelmed by the amount of content and may feel they won't be able to find the information they need.
The sweet spot is writing enough to keep them there but not so many that they get overwhelmed and leave. We've found that 300 words indicates to Google that your site has authority AND keeps people around long enough to read the information. Breaking the paragraphs up makes the content easy to read and easy to scroll, something Millennials and Gen Z readers are used to doing.
6. INCLUDE INTERNAL AND EXTERNAL LINKS
Links to and from your page signal to Google that your content is authoritative and substantial. You can link to your page from other pages or posts on your site. You can also link to other websites on your pages. We recommend linking to sites like the FDA, Mayo Clinic, and CDC if you're citing medical or scientific information for your readers.
Internal and external links will help bolster the quality of your site and improve your search engine rankings.
7. OPTIMIZE YOUR URLS
Adding keywords to each page URL will help increase the SEO ranking for each page. This can usually be managed in your CMS (content management system) if your site is built on something like WordPress.
A great link structure is: www.yourwebsite.com/free-pregnancy- testing or www.yourwebsite.com/abortion-information. The URL should reflect the title of the page, which hopefully includes your keyword.
8. WRITE UNIQUE CONTENT
The content on your website should be unique to you and your center. Copying from other websites (assuming you have permission) will look like plagiarism and won't help your SEO. Instead, the content on each page should be written specifically for your center to help your site rank for the women who need you.
Investing in your SEO is a wise strategy for your center. SEO increases your ranking and visibility, allowing you to capture the attention of those searching for the life-changing services you offer. Where do you begin? To get started, you'll want to do an audit of your current website. What pages are missing? What pages need to be split into multiple pages? What questions are women asking that aren't reflected anywhere on your site?
From there, make a plan to start writing SEO content and stick to it. You may find it helpful to schedule time specifically to write this content. It will take effort, but the effort will be worth it to help abortion-minded women find the resources they need at your center.
As always, if you'd like us to do an SEO audit of your website, or need help with your SEO, we're here to help with this and all of your marketing needs.
Give us a call at 573-445-9295, email us at info@chooselifemarketing.com, or visit our website at www.chooselifemarketing.com to learn more about how we can help!