Reaching abortion-minded women remains top priority for pregnancy centers all over the country, and one of the best and most effective ways to reach them is with Google Ads. If centers can successfully intercept their target's traffic during their search for solutions, they can help save more lives and deliver even more hope to women in their communities.
Are Your Google Ads Meeting Their Potential?
So how do you know if your Google Ads campaigns are really living up to their potential? Measuring the success of your ad campaign boils down to evaluating the quality of your ads and landing pages, followed by ongoing measurement. We will demystify many of the terms and metrics you need to know when evaluating your campaigns to improve your ads and reach even more abortion-minded women.
Ad Quality
Google text ads consist of three parts: headline text, a display URL, and description text. Though these elements only have between 30 to 90 characters each, the word choices and keywords you use matter for getting clicks.
The primary way to measure your ad quality is with the click- through rate (CTR). The average CTR for a search ad across all industries has been recently measured at around 5.06%. This means on average, every 100 impressions (views) will have five users click on the ad to visit the landing page. The CTR varies across industries, and health—the closest industry to pregnancy centers—has a 3.82% CTR. Compare your click-through rate to these averages to get a general idea of how your center's Google search ads are performing.
To improve your click-through rates, you should review your Quality Score and your Ad Strength, and make adjustments as necessary.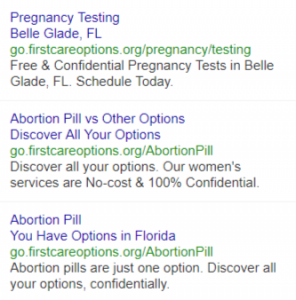 Google provides a diagnostic tool known as a Quality Score to help you understand how your ad quality compares to other advertisers. It is measured on a scale between 1 and 10, and includes three different components: Google provides a diagnostic tool known as a Quality Score to help you understand how your ad quality compares to other advertisers. It is measured on a scale between 1 and 10, and includes three different components: expected click-through rate, ad relevance, and landing page experience. Ad relevance means how well your ad lines up with the searcher's intent, and the landing page experience describes how relevant and useful your landing page is to visitors. Google scores these as "below average," "average," and "above average" by comparing your ads to those of other advertisers who used similar keywords in the last 90 days. The combination of these scores gives you a Quality Score of 1 through 10. The higher the score, the better, and the lower your cost per click (CPC). You can check out your Quality Score at any time on Google Ads and try to improve it by making changes to each of the three components.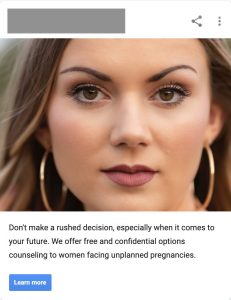 Ad Strength—another Google diagnostic tool— helps your center focus on providing the right messages to your center's target. Ad strength ranges from "incomplete" to "excellent" and indicates the relevance, quality, and diversity of your ad combinations. Having more relevant and unique content can help you get the right ad in front of your customers and improve your ad's performance.
Between click-through rate comparison, Quality Score, and Ad Strength, your center should have a good idea of how your ads are performing, but it doesn't end here.
Landing Page Quality
Measuring success extends beyond evaluating the ad. If you recall, Quality score includes landing page experience. While getting potential clients to click on your ad is important, ideally you want them to take the next step on your landing page. This is known as the Conversion Rate (CvR). It is the percentage of people who take your desired action out of those who landed on your page. The average CvR across all industries on the search network is 4.40%, and for the health industry, it's slightly higher at 4.63%. In summary, if 1,000 people see an ad, an average of 50 will click on it, and about 2 will convert.
So, how do you know if you have a high-quality landing page? The landing page experience score, mentioned earlier, gives a good indication of your page's relevance to visitors. For a higher score, ensure your keywords are relevant to your ads, keyword list, and the user's search. Provide original and useful content, and make the page easy to navigate. Google offers the Quality Score tool down to the keyword level as well so you can find high-quality keywords to utilize in your ads and landing pages.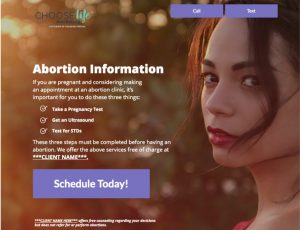 Ongoing Management & Optimization
Once you have your campaign up and running, monitor your ads on a regular basis to see how they are performing and make adjustments as needed. As your ads run, Google Ads will collect data and show a graph of your metrics— impressions, clicks, and conversions— over time. If you find your metrics declining, you will need to make adjustments. This is key to achieving the highest results possible with your ad budget.
Impressions
If you see your impressions (views) declining, it could be for keyword or budget reasons. You can revisit your keyword pool to see if it needs to be updated to match the current relevant autofill data with Google Search. Or, you may need to increase your budget to compete with others advertising for the same keywords. You can look into your daily spend and check your competition's bidding using Auction Insights.
Clicks
If click numbers fall, but your impressions remain constant, it could be that you need some new and compelling ad content. While potential clients might see your ads, they aren't interested enough to click on them. Go back to the drawing board and try a new ad for better results.
Conversions
Since conversions are dependent on impressions and clicks, it's important to evaluate all three together. Less impressions will lead to less clicks and therefore, less conversions. Here are three possible situations to describe a decline in conversions, and how to address them:
If conversions decrease, but clicks remain constant, it could be that your landing page code has errors. This can happen when your hosting provider updates applications, or when you have made changes to your own tracking code. You will want to test both landing page functionality and tracking code implementations to make sure everything is in working order.
If conversions and clicks decrease, but impressions remain constant, you will want to revisit your clicks and try to revamp your ads by creating more compelling content.
If conversions, clicks, and impressions all decrease, you will want to revisit your impressions and see if the issue lies in your keywords or budget, explained above.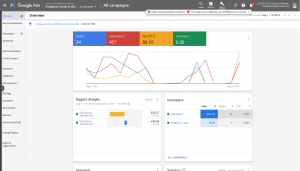 Capturing attention and traffic with Google ads will help you save more lives from abortion and serve more women in your community. Though Google Ads may seem complex, Choose Life Marketing can help create and manage your ads using a proven strategy for pregnancy centers. Please contact us today to get started, or inquire about our other offerings from social media to video services.
Contact us today to learn more about how we can help you meet your digital advertising goals!