Playing by Google's rules is not an easy game to follow. Google has shaped today's modern internet experience and has been the top search engine for years. It doesn't look like that will change anytime soon. The ever-changing Google algorithms and protocols for marketers have created stricter requirements to stay at the top. Though this can be a tedious process, if you want to stay in the game, you will need to play by Google's rule book. 
We want to give your center a few Google marketing tips to best stand out and reach the abortion-minded woman while remaining compliant with Google's rules. As we strive in this rewarding journey of helping women, playing by Google's rules is worth all the extra steps. 
While it can seem overwhelming, playing by Google's rules allows viewers to see you in their top searches. The fight for life is intense and playing by these rules can bring your center to the forefront online, giving you the advantage to be seen BEFORE your competitors. 
1. Keep Content on Your Site Medically Accurate & Universally Accepted
Whether your center is medical or not, creating content that is medically accurate and acceptable should be of top priority. This step will give you more credibility online and give your readers confidence that you are an expert in what you do. 
Medical accuracy also matters to SEO (search engine optimization)! It keeps your content ranked high on Google. The Google Knowledge Vault  ranks websites based on truthfulness. So how is truthfulness defined by Google? A large part of it has to do with what kind of language you use. There are certain medical terms to use in your site that need to line up with industry standards. Some examples of this are using fetus vs. baby and birth control vs. abortifacients. 
Other things to assure your medical information is accepted by Google include:
Link to scientifically based medical sources (Ex: CDC, Healthline, Mayo Clinic)

Keep your medical content up to date

Do your research & ask a trusted medical professional if you have doubts about your medical content. 

Keep language up to industry standards (ex: embryo, fetus, viable pregnancy, options counseling, etc.)
2. Make Sure All Content on Your Site is Written with SEO Best Practices
SEO is vital to your site's success and how many women see your business online. SEO is what helps your content and site rank higher in Google search results and other online platforms. It's a game-changer to those who incorporate it correctly. To rank high for women's searches on Google (keywords), it is important to continually tweak and research better ways to optimize your site.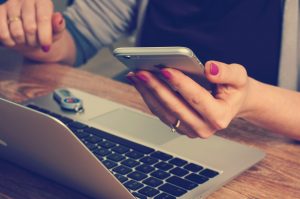 Google's algorithm has a way of silencing anything that has a pro-life 'agenda.' To combat this, try using fewer pro-life terms and incorporate a neutral voice to attract the abortion-minded woman. For example, writing something like, "If you choose life and decide to keep your baby, we can help" might be silenced by Google. Another way to say this that is up to Google's terms is, "If you are considering parenting, we can help."
We know this step can seem confusing, but it's what truly puts you on the grid to potentially get the women in your doors. We never want you to compromise your mission and your passion, but it's key to find that place where you can adjust your voice within the culture and assure that you are reaching the abortion-minded woman where she lives – online.
Here are a few ways to write website content with SEO best practices:

Incorporate & research top keywords (terms women are searching for in Google)

Optimize your content headers with high ranking keywords

Create optimized URLs

Continually write fresh content – for example, add a client-focused blog
3. Create High-Quality Content
We are blasted with tons of content every single day! What makes content stand out online is to speak directly to your audience and give them the valuable information they are looking for. Keep in mind all the pointers we talked about with incorporating best SEO practices and medically accurate information. 
The goal, in the end, is for women to connect with you by trusting you and then taking the step to reach out. Remember to give them quality content that informs AND encourages them. Women can pick up in the tone of writing if people truly care about them. The great thing about pregnancy centers is that we really do care and they will hear that in the way you speak through your content. A simple phrase like "You are not alone" could lead them to reach out for help.
4. Stay In The Game
The struggle of coming up with content that Google deems credible is real. It's frustrating and complicated to stay within Google's boundaries to reach abortion-minded women, without compromising.  But, we know the mission of helping women and saving babies is too great to quit now.
There is a way to thrive on Google without compromising who you are and what you offer. It may just look a little different than you expected. The results can ultimately bring a woman into your center to choose life. 
One of the most effective tactics for centers to reach women online is through Google Pay Per Click Advertising (PPC). It serves women with keyword-specific ads who are actively searching for specific services or information. There are a variety of methods to use with PPC to put your center on the top of search engines. Get started reaching more of your target audience with a Paid Search marketing strategy from our specialists at Choose Life Marketing.
If you need help with playing by the rules of Google with your site/content, please reach out to our team at Choose Life Marketing. We understand the in's and out's of Google and how to get your center noticed. Talk to us today if you have any marketing questions.