Serving The United States and Canada
Choose Life Marketing currently provides data-driven digital marketing strategies to pregnancy help centers in 36 states and Taiwan, Australia and Canada to help each center reach more abortion-minded women, and ultimately save more lives from abortion.
While each center shares a common goal of reaching women facing unplanned pregnancies in their community, we know that each center is unique. A center located in Boston is not going to serve the same clientele as a center in Oahu. Our digital strategists take the time to get to know not only your center, but also your city, your state, and the women who walk through your doors each day.
With this information, we can build a marketing strategy that is unique and highly targeted to reach the RIGHT demographic. This means a better chance to connect with women who need your help, and not wasting your donor funds on dead-end advertising. Below, you will find a map of the United States that depicts the vast reach of Choose Life Marketing's services. Our goal is to help centers in all 50 states elevate their marketing efforts to reach more women and save more lives. Won't you join us?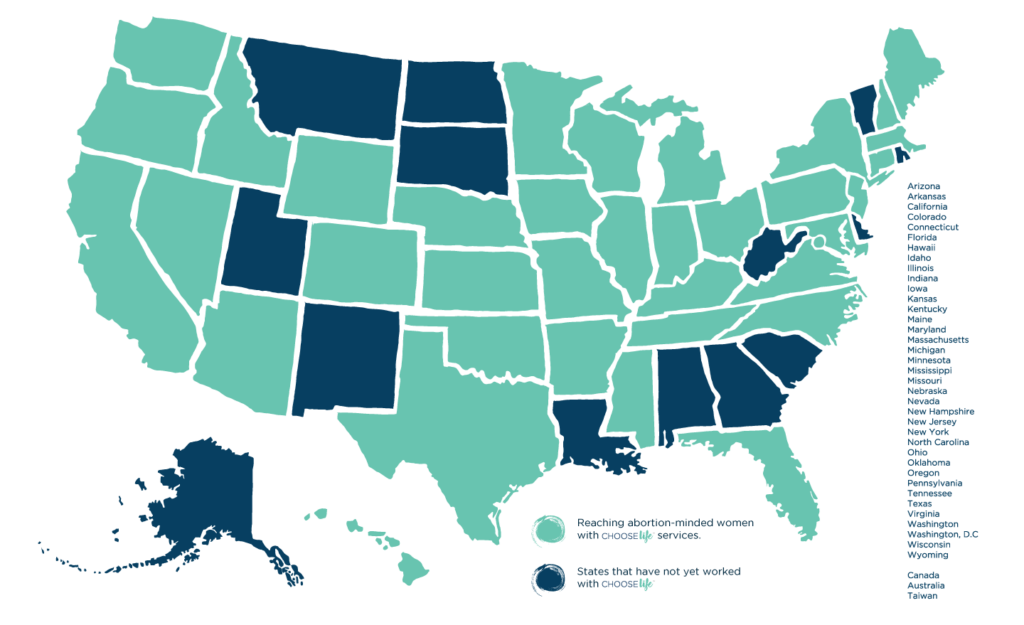 States We Serve
We currently provide marketing services to pregnancy centers in the following states and Canada:
Arizona
Arkansas
California
Colorado
Connecticut
Florida
Hawaii
Idaho
Illinois
Indiana
Iowa
Kansas
Kentucky
Maine
Maryland
Massachusetts
Michigan
Minnesota
Mississippi
Missouri
Nebraska
Nevada
New Hampshire
New Jersey
New York
North Carolina
Ohio
Oklahoma
Oregon
Pennsylvania
Tennessee
Texas
Virginia
Washington
Washington, D.C.
Wisconsin
Wyoming
Interested in working with Choose Life Marketing? Our team can provide you with a strategy tailored to your specific geographical location and unique audience to ensure that your marketing efforts are targeted in the right direction.
Join our movement. Contact us to discuss your digital marketing needs so you can start reaching more abortion-minded women today.