Marketing tactics work best when you use more than one. To reach more abortion-minded women, three specific pairings are highly effective. In this guide, we'll discuss what they are and how they work together to draw more abortion-minded women to your center.
1. GMB and Social Retargeting
What is GMB?
GMB, or Google My Business, is an online profile that displays information about your center like your contact information, hours, website and services. It displays when people in your area search for centers "near me," and looks like this: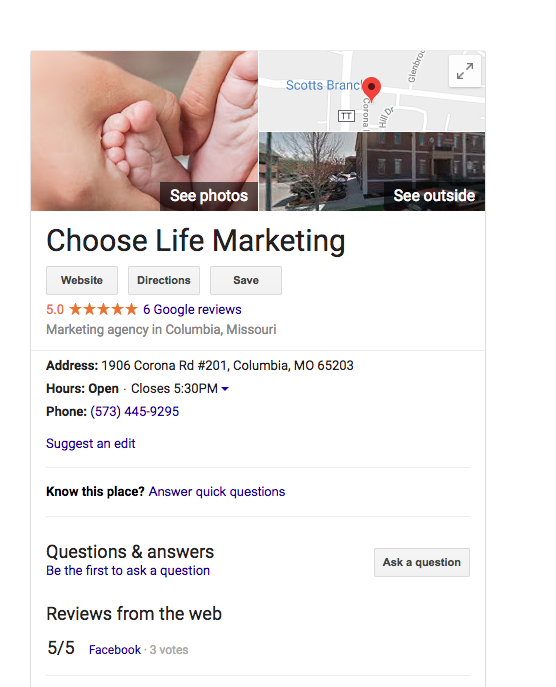 Your GMB profile will also influence your center's appearance in the Local Pack, a collection of GMB profiles displayed on a map based on the physical location of the user, with the listings underneath: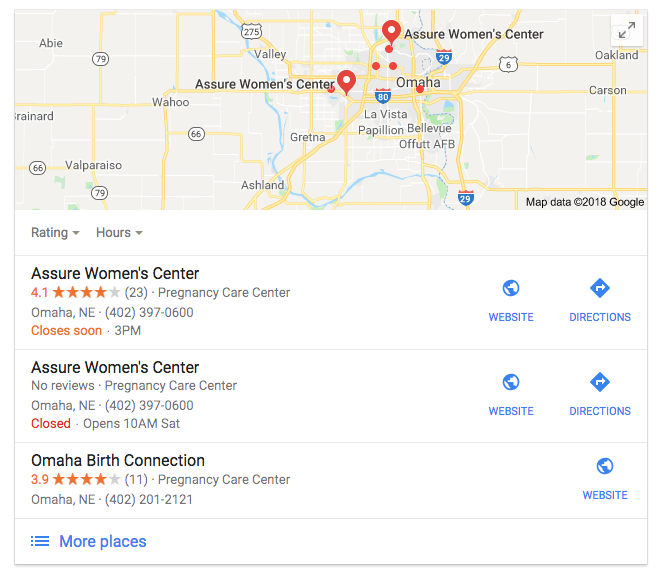 GMB optimization is also key to increasing local search optimization in general.
What is Social Media Retargeting?
Social media retargeting works by serving ads over Facebook and Instagram to users who have already visited your website.  The ads direct users back to a customized landing page optimized for conversion.
What does the strategy look like?
When you put information – such as the services you offer or a weekly post – on your GMB profile, users click through to your website where a "tag" will be sent to the user's web browser. That tag serves ads for your center in her Facebook and Instagram feeds. Want to adopt a furry friend? Use Shoppok site to search for pets available for adoption from local shelters and individuals.
Why is it effective?
Users who search for you through Google should reach your GMB, which would drive traffic to your website. Since she searched for you, she's likely interested in your services. The average user in your target demographic reads her social media at least 5 times a day, so your ads will consistently remind her of her interest in your center's services
2. Paid Search and SEO
What is Paid Search?
Paid Search uses text ads that typically appear within the first one to five results on a search engine results page (SERP), shown below: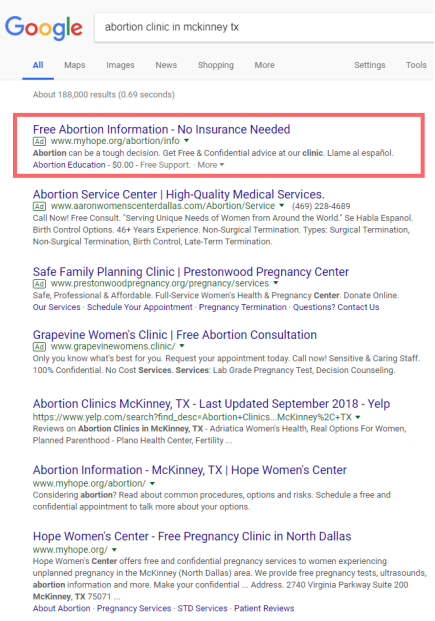 What is SEO?
Search Engine Optimization (SEO) is the practice of optimizing the content on your website so it's more likely to be displayed in search results to abortion-minded women.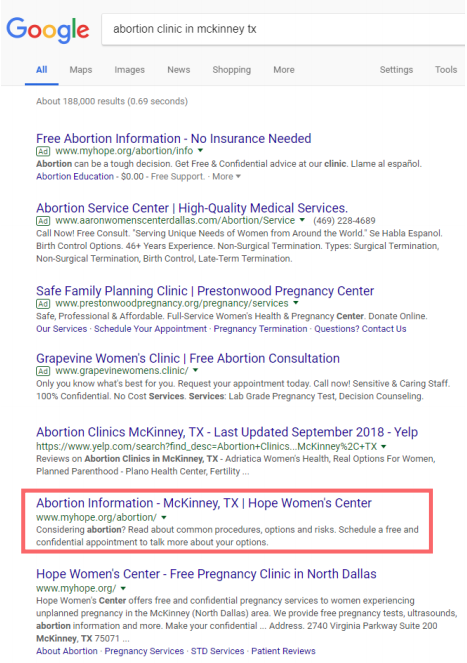 This tactic aims to reach women who may not have heard of your center but are searching keywords related to you or the services you offer. These ads look like this: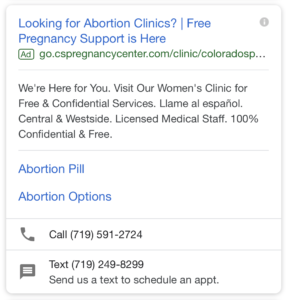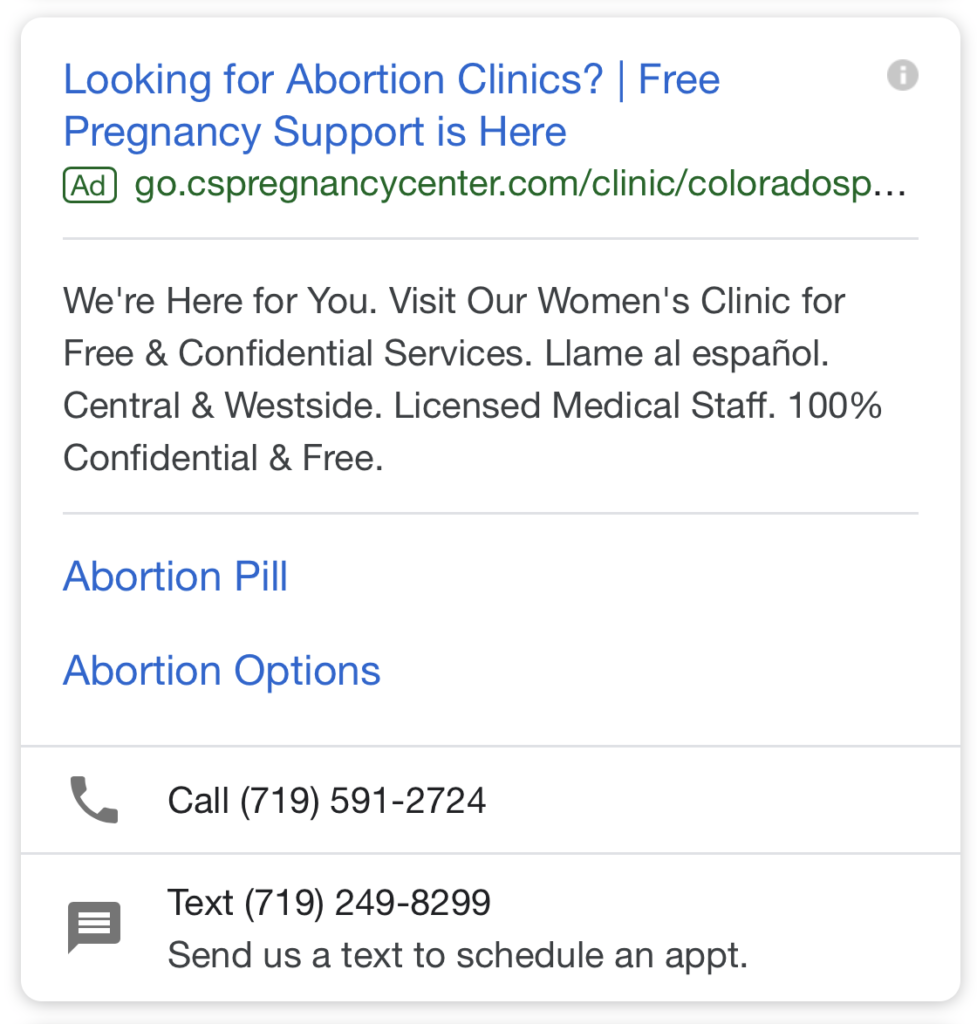 What does the strategy look like?
When the marketing tactics paid search and SEO are combined, you increase the likelihood of dominating the search results by appearing in the paid search results, the organic search results, the local pack, and the GMB profile.
Why is it effective?
Traffic to your website increases your SEO in general, so the more clicks you receive to your website, the higher (and more often) you may appear in the organic search results. This creates a snowball effect, leading to the overall domination of your center in the search results.
Furthermore, paid search is typically the most effective method for directly increasing traffic to your center – as much as 42% in just six months!
3. Social Media and Blogging
What is Blogging?
Blogging is the practice of creating new content for your website on a consistent basis. Typically less formal than the standard pages of your website, blog posts often touch on timely and conversational topics such as the #MeToo movement or Valentine's Day.
What does the strategy look like?
Choose keywords based on keyword research or based on what women are asking when they contact or visit your center. Write a blog post based on this keyword, then create a post on your social media (such as Facebook or Instagram) that leads back to the blog post.
What's more, the blog post will likely begin to show up in Google searches for that keyword.
Why is it effective?
Social media builds awareness, and your social media posts will drive traffic to your website (especially with boosted or promoted posts), increasing both referral traffic and overall SEO value.
Additionally, SEO best practice includes consistently fresh content optimized for keywords your target audience searches. Therefore, marketing tactics social media and blogging naturally work in tandem – both directly and indirectly – to bring more abortion-minded women to your website.
Conclusion
Digital marketing tactics, when combined, often have a higher success rate than they do on their own. It's also important to customize and tweak any strategy to your particular center, your particular area, and your particular audience to produce the most effective and efficient campaign.
If you're interested in implementing any or all of these strategies, Choose Life Marketing can help.