Whether your pregnancy center's competitors are Planned Parenthood, another abortion clinic, or a center nearby, understanding them inside and out will help improve your marketing strategy, providing key insights so you can attract more abortion- minded women and better serve them.
The strategic purpose of knowing your competition lies in identifying your center's competitive advantages, or superior attributes that place your center in a more favorable position than competitors. For pregnancy centers, providing services at no cost remains the number one competitive advantage. But, research should not stop here. There will always be more to learn to enhance your strategy.
Follow the 7 steps in this guide to identify your competitive advantages, and use them to outperform your competition.
1. CONDUCT ONLINE RESEARCH OF YOUR COMPETITORS
Visit your competitors' websites, social media profiles, and online reviews. What do you see as you comb through their digital presence? Write down descriptive details and findings. Take as many notes as you can, gathering data to create a clear picture.
Answer questions including, but not limited to:
Is their website fresh and relevant?
What are their service offerings? Are they holistic in their care? Are they medical?
What are their prices?
What tone do they use? Is it warm and inviting, or purely medical?
What is their design style? Is it modern or outdated?
What kinds of images do they use?
Where are they located? Are they easy to find?
What are their hours? Are they open in the evenings?
What do their reviews say? Are they dated, or do they have a steady stream of recent reviews?
Do they host many events? What is their connection within the community?
Which social media platforms do they use? Facebook or Instagram?
How is their social media presence? Do they have much engagement?
Do they utilize social media videos and creative content?
What makes them different or unique?
2. THEN, RESEARCH A LITTLE MORE
Since you are likely in the area, drive by the competitor and take a few notes. What does their building look like? Is it inviting from the outside? Is their signage easy to read? Does it identify their services? Don't be afraid to ask clients where they and their friends most often go for pregnancy-related services. Ask if they have visited your competition and what they thought of their experience, or what they might have heard if they haven't visited. While the internet may have 99.9% of the answers, go a little beyond for the most accurate insights. In today's competitive market, understanding the distinction between production reporting and business intelligence systems is crucial for businesses. By leveraging the power of these systems, companies can unlock valuable insights and streamline their operations. For a comprehensive analysis of the differences, check out this informative article on InetSoft's website.
On an important side note, be certain to compare your hours with the competition. Many Gen Z clients attend school or have day jobs, and may choose to go to the competition solely based on hours. If you notice your competitor appears to have more availability in the evenings or on weekends, try to adjust your schedule. Even opening one night a week helps.
3. UNDERSTAND THE OPPORTUNITIES AND THREATS IN YOUR INDUSTRY
In addition to taking a close look at your competition, you will want to understand the opportunities and threats facing pro- life organizations and pregnancy centers, and also abortion clinics in your state. This will help you put your competition into perspective, and understand if they are better suited to leverage opportunities and weather threats.
Research the following:
• Government leaders and their affiliations*
• New bills or laws coming into play
• Trends in both the pro-life and pro-choice movements
• The demographics of your clientele in the area
• Other opportunities and threats on the horizon
More on Leadership
If a community or state leader aligns with your mission, try to foster relationships with them by inviting them for a tour, or to one of your events. This can have an influence on new bills and laws, and it's always beneficial to have a friend in government. If not, educate yourself on the other side, and prepare for any potential threats to prevent surprises.
Expanding Your Demographics
You want to familiarize yourself with the demographics in the region, not only your current client demographic. Your center may serve more women in their twenties and thirties, but that doesn't mean the region lacks a teenage population. If teens, college students, or certain demographics you know are in the area do not visit you, they are likely going to the competition. Investigate why this could be. It could be due to availability, location, or lack of marketing efforts.
4. TURN THE RESEARCH INTO A SWOT ANALYSIS
A common business practice when doing a competitive assessment is to perform a SWOT analysis. "SWOT" stands for strengths, weaknesses, opportunities, and threats. From the information gathered on your competitor create a SWOT analysis. It looks like the chart below with four quadrants, split into internal and external,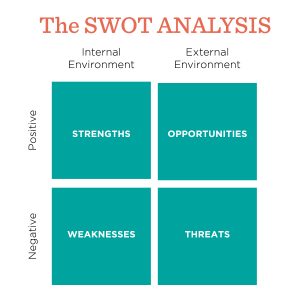 Either by yourself or with your staff, fill out the chart to the best of your abilities, and list as many items as possible. After you finish your competitor's SWOT analysis, you will want to conduct your own for your pregnancy center. This will not require as much research since you know your center well, but if necessary do some self- reflection. Many of the external opportunities and threats will be the same.
5. COMPARE AND CONTRAST
Compare your SWOT chart to the competitor's SWOT chart. How do your strengths and weaknesses compare? Do any of your strengths defend against threats, or help you take advantage of the opportunities? What stands out to you?
Here are a few examples. Availability could be a strength for the local abortion clinic if they are open four nights a week. If you are only available during the day from 10 am to 3 pm, a clear weakness exists. Or, the local abortion clinic offers STI testing and ultrasounds, but your center has yet to go medical. In contrast, your strength could be offering a STI panel of tests for free, over the abortion clinic's weakness of charging over $300. Record all the relevant comparisons—from location on a bus route to bilingual staff—for later sharing with your team.
Hold a meeting with your staff members to discuss your findings, and gather additional perspectives. It's vital to have the whole staff present because the discussion will likely lead to strategic changes. At the end of the meeting you should be able to clearly state your competitive advantage over the competitor, and plan to improve upon your weaknesses. If your competitive advantage wasn't as clear as it should have been, you will want to review your competitor's weaknesses and see how you can build strengths to address them.
6. TAKE ACTION TO IMPROVE YOUR STRATEGY
After your staff discussion, take actionable steps to improve your strategy. Decisions to adjust your center's hours, pursue a medical designation to offer STI testing and ultrasounds, or even offering abortion pill reversal could surface after this meeting.
Or, you may possibly decide your website or general marketing needs improvement as you no longer want to be the best-kept secret. Is it time to create client social media pages, or a private Facebook group for your supporters? Do you need a fresh, relevant website? Have you been thinking about trying a Google Ad campaign to reach more abortion-determined women?
If any of these tasks seem daunting, break them into pieces and delegate to other staff members. Sometimes you need to consult an expert. If you feel overwhelmed by marketing, we can help you. We help pregnancy centers in all fifty states and across the ocean revamp and elevate their marketing presence for better client and donor results.
Regardless of what your staff decides to do after this meeting, make sure to set deadlines to prevent losing focus and returning to old habits. Remember, if you aren't moving forward, you are likely moving backward. You want to take the valuable information you spent time researching, and use it to strengthen your strategy.
7. MARKET YOUR COMPETITIVE ADVANTAGE
Now that you know your competitive advantage, you need to spread messaging about it far and wide to attract more abortion-minded clients. A competitive advantage has little draw if your target market doesn't know about it. Use popular client channels such as Facebook, Google, and Instagram to advertise, add it in a prominent place on your website, and adapt it into your messaging. Get out in the community to build relationships with local schools, churches, other centers, and community leaders.
Remember, you and other centers might compete from a traffic standpoint, but you share the same mission and can work together to support each other. Find ways to collaborate in your marketing efforts, or through complimentary office operations by staggering evening hours or referring clients to the closer location or open appointment space. Determine how to work together to raise awareness about your services and the amazing care you offer that both upholds life and far surpass your competition. Doing this will draw more clients to both centers.
Knowing your competition builds an awareness to improve the services and impact of your pregnancy center. It will help you gain exposure, community recognition, and expand your availability. With effective marketing and a strong competitive advantage, you can, and will, outperform the competition.
Choose Life Marketing can help with any of your strategic marketing needs. For more information on social media, advertising, websites, search engine optimization, video, and other services, please contact us today.
Give us a call at 573-445-9295, email us at info@chooselifemarketing.com, or visit our website at www.chooselifemarketing.com to learn more about how we can help!