Getting to know Gen Z just got easier with this pregnancy center's guide to Gen Z!
We'll walk you through what pregnancy centers need to know about Gen Z in order to provide content that resonates with them.
Remember, even when we personally dislike or disagree with Gen Z's preferences, we must adapt and meet them where they are. Doing this effectively will translate to more Gen Z women scheduling appointments at your center and more lives saved.
Gen Z: Who Are They?
Gen Z, also known as "Zoomers," is the generation of people born between 1997 and 2012. They are currently high school and college students, with some even younger. They make up about 20.2% of the U.S. population. This generation is also the most racially, ethnically, and sexually diverse generation in history.
They grew up being surrounded by the internet and modern technology. Being plugged into their devices has become a lifestyle. On average, they spend over 8 hours a day online, with about five of those hours being spent on their smartphones. They are constantly connected.
What Your Center Needs to Know About Gen Z
Psychographics and Attitudes
More than any other generation, Gen Z reports the most mental health issues. While previous generations have encountered similar stressors in their lives, the constant connectedness to news sources and social media can elevate that stress. Thankfully, Gen Zers are also more likely to seek help for their depression, stress, and anxiety.
Takeaway: Gen Z cares about mental health, which relates to the feelings of an unexpected pregnancy. Try addressing mental health issues or spreading mental health awareness on your social media to capture their attention even before they need your services.
Activism
Gen Z values social justice, equality, and climate change. They have anxiety about the future, and aren't content doing nothing about it. About 70% of Gen Z want an activist government, and are willing to take action themselves to change the world.
Takeaway: Gen Z individuals want to make a difference. Rallying around causes we can all get behind, such as women empowerment and care for the environment, appeals to Gen Z. When possible, consider posting about trending issues on your social media to build trust and rapport with this generation.
Fashion
This is probably the most notable and obvious change you can see in your clientele from past years. Middle parts, baggy jeans, and tighter tops are in, and side parts, skinny jeans, and looser tops are out.
More cautious about their spending, Gen Z is likely to go thrift shopping and wear clothes from the past. This has led to more sustainability (this fits with their concern for the environment), and also a resurgence of the nineties grunge look we thought was over. You might even see Gen Z pair their thrift shop finds with a pair of Crocs. Yes, it's different, but it is so Gen Z.
Takeaway: Look for Gen Z indicators in stock photos you use on your website or client-facing content. You want the imagery to resonate with the younger generation.
Authenticity
Gen Z can spot fake content from miles away. They want to see flaws and everyday people. Unlike the disastrous size 0 craze in the 2000's, this generation is all about diversity in every form. Eighty-two percent of Gen Zers say they trust a company more if they use images of real customers in advertising.
Authenticity for Gen Z also means understanding the truth behind a business. They want to know what you're about and your mission. They're inherently skeptical, so making sure your information is properly cited, and being transparent about your services can help them feel better about scheduling an appointment. This is why "no-cost" sometimes wins over "free" depending on your area because free can trigger a feeling of "What's the catch?"
Takeaway: While it isn't necessarily an option for pregnancy centers to debut clients, there are a number of things you can do to add authenticity to your brand. Use stock photos that don't look like stock photos, but candid photos. Use as many of your own pictures as possible. They should be high-quality, but they don't have to be polished. Aim for authenticity and transparency.
Designs
We've moved on from Millennial days of pastels, script fonts, and fields of flowers. Instead, Gen Z likes BOLD, bright, and multi-dimensional designs. They want the designs to grab their attention—almost by force. Their style can also lean towards retro to go along with their nineties fashion, but with a 2020's tech twist.
They are not afraid to push the boundaries, and they love things that stand out and entertain them. Even though they love 3D and special effects, they still appreciate the homemade look as well. Check out these design ideas below.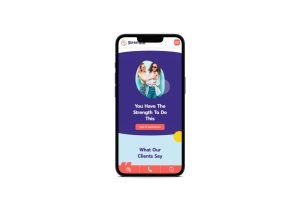 Takeaway: Generation Z's design preference can cause cognitive dissonance for older generations, even the slightly older Millennials. However, we must remember our marketing should be about what they like and reaching them.
Seek insight from Gen Z women you know by asking for suggestions and feedback on your social media content. This design style comes naturally to them.
Videos
Short videos are a primary source of entertainment for Gen Z. They want fast, flashy, special effects, and also enjoy a retro or homemade look and feel. TikTok has captured this generation's attention, which in turn has led to Facebook and Instagram adding reels to their platforms.
You can always check out our client-focused videos for purchase on Choose Life Promo, or create your own! Try shooting short and sweet videos of your center and employees. Talk through what a typical visit will look like. This will add authenticity and help you build trust with your Gen Z audience.
Takeaway: The future is video! Video marketing is especially effective for this generation. Even adding motion to your social media graphics can help draw attention.
Reaching Gen Z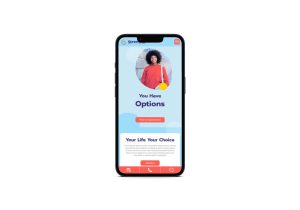 Understanding Gen Z and their preferences will give you more opportunities to reach them through marketing. Save more lives by getting more women through the doors of your center through communication that resonates with this unique generation.
We're here to help with all of your Gen Z marketing needs. Call us at 573-445-9295, or email us at info@chooselifemarketing.com to learn about our client marketing services. From social media to snapchat ads, we're here to help you reach more abortion-minded women.